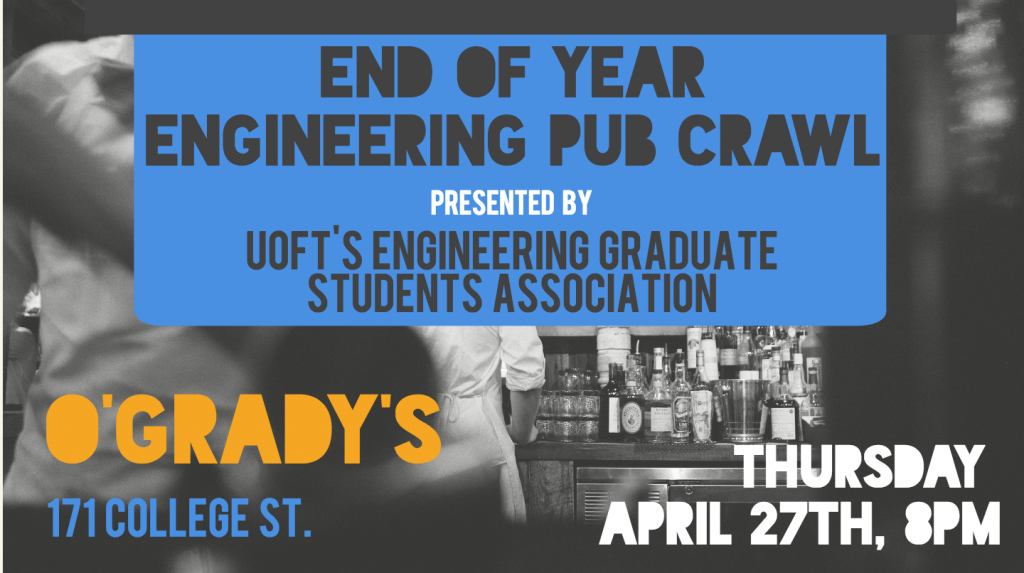 ECE Grads: Come out this Thursday April 27th to celebrate the end of exams and the beginning of Summer with all of your peers in engineering! The Engineering Graduate Student Associations will be co-hosting a laid back pub crawl this Thursday, visiting some of our favourite bars along College St. The crawl starts at O'Grady's at 8pm and will continue to two more locations along College St. throughout the evening. The exact schedule will be released closer to the date. Please register using the following Eventbrite link if you plan to attend. The first 50 ECE students to arrive who have registered for the event will be guaranteed a free drink ticket courtesy of the ECEGSS.
What: Engineering Grad Student Pub Crawl
When: Thurs. April 27th @ 8pm
Where: Starts at O'Grady's on College
** Note: Drink tickets will only be valid at the first location, O'Gradys. You must show up to O'Grady's between 8-9pm to claim your free drink, as the pub crawl will move on to our next location after that.
Register here for the event.