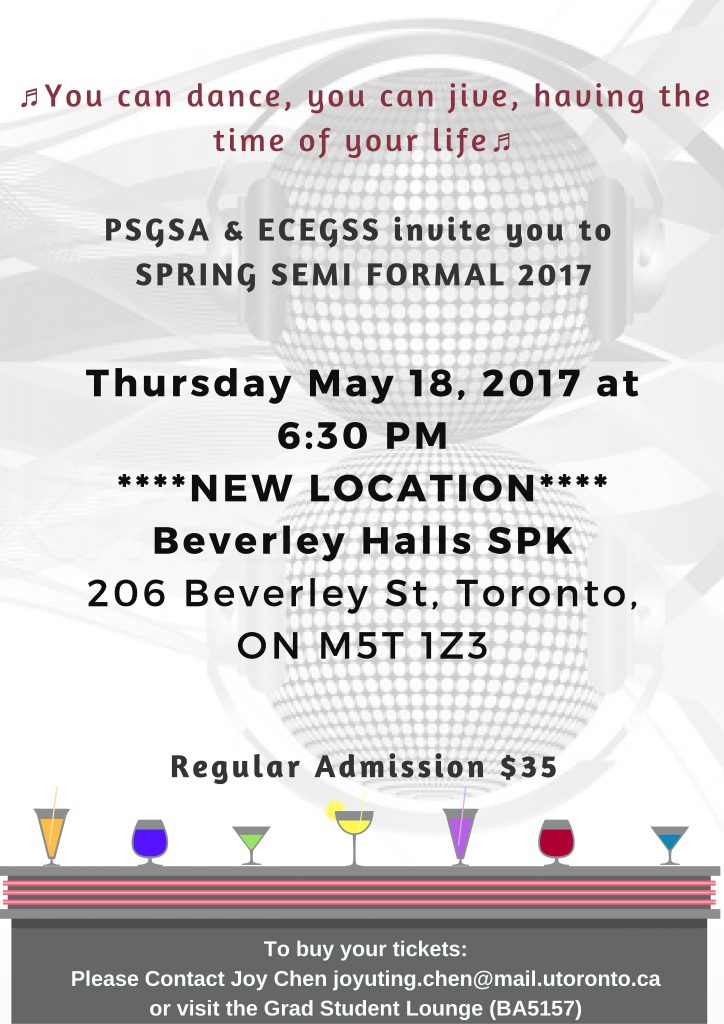 SPRING SEMI FORMAL 2017
The Semi Formal will now be held at Beverley Halls SPK in the Grand Hall Room, 206 Beverley St, only 5 minutes away from UofT campus! Come out for a chance to get dressed up, meet new friends from the PSGSA, and dance all night!
Each ticket includes: dinner (see menu below), 1 free drink + cash bar all night, and a chance to win door prizes!
There will also be a live DJ all night, a photo booth and an open dance floor.
║What: Spring Semi Formal
║When: Thurs. May 18th, 6:30pm – midnight
║Where: Beverley Halls SPK Grand Hall Room, 206 Beverley St.
* Dinner Menu (buffet style) *
– Chicken Entrée
– Pierogies (vegetarian)
– Rice, Potatoes, Dinner Rolls
– Salad, Vegetables
– Coffee & Tea
– Dessert
* Cash Bar All Night*
– $5 Domestic Beer/Wine/Mixed Drinks
– $6 500 mL Polish beer
For more information, check out the event page at: https://www.facebook.com/events/454203391589033